Watch Out For Auto Warranty Scams With Local Phone Numbers
Vendors are paying the state of Illinois to access information, like your vehicle title, so they can send you threatening warranty notices that look official.
These vendors are getting smarter everyday. Often now, they are calling us with local phone numbers that seem less suspicious. They answer as "Dealer Services" and try expressing urgency that this is the last chance before your opportunity expires to extended your breakdown coverages with a service contract. These companies often close down before every issuing a claim and very rarely will cover you if an issue does occur outside of one of their many stringent exceptions.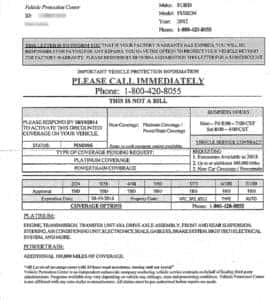 An example from Florida echoes those around the country including here in Illinois. "The Florida Highway Safety and Motor Vehicle office told Eyewitness News that seven vendors had access to [a customers] updated title information. A spokesperson told Eyewitness News that the vendors pay the state to access people's information because they have agreements to use the information only for things like recalls, theft or owner location. But when Eyewitness News sent the mailings that [the customer] received, FLHSMV said it's now reaching out the vendors to find out if [the customers] information was sold to anyone else." To Read the Full Article go here:
https://www.wftv.com/news/9-investigates/9-investigates-how-companies-get-your-dmv-information/465728053 
The FTC and FCC have similar articles simply telling us to "be on the lookout" however they do not fix the root of the problem at the state level. We highly encourage you to reach out to your Illinois State Representatives.
https://www.fcc.gov/consumers/guides/beware-auto-warranty-scams
KC Summers however does have real options if you are interested in covering your vehicle against potential, unexpected repairs. Our options are nationwide, backed by reputable repair companies, and pro-rated. If you are interested, leave it up to a local dealership that will always pick up the phone when you call.