Hyundai Blue Link
The first thing to know about Hyundai's connective service known as Blue Link is that it is all managed through www.myhyundai.com. This website lets you manage your account and add or remove vehicles.
Bluelink Packages 2018 – this walks you through 2017-2018 model years of vehicles, pricing, and different levels such as Connected Care, Remote, and Guidance.
Hyundai Bluelink Gen 2 User Guide is the in depth how-to's of the system
For all things Blue Link, never hesitate to call 1-855-225-8354, they have excellent customer service help.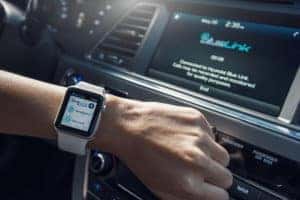 The most common errors with Blue Link usually are operational error. For example, for the Remote Start to work, the vehicle must be equipped with a push button start, have an automatic transmission,
locked, picking up signal from a cell-phone tower, and started within the past 5 days. So if you go on vacation for more than 5 days and want your vehicle started when you land at the airport, make sure to start it about 4 days into the vacation and yes, you can lock the doors from the app if you forgot to from the fob.
Another little known fact is that pre-owned Hyundai's can also qualify for Blue Link.
One handy tip, Blue Link is pro-rated, so if you are concerned about cost savings, what we recommend is to subscribe during the bad weather months with a 1 year package and when the weather becomes mild again you can cancel and get the remaining year refunded.