Hyundai Hope on Wheels
Did you know every Hyundai you purchase you are raising money to help a child battle cancer?
Each day, 43 families in the United States find out that their child has cancer, but there is reason for hope. Childhood cancer was cut in half from 1975 to 2012. Now, thankfully more than 80% of children with cancer survive. And, with our support, member institutions of the Children's Oncology Groups of America are working toward the day when no child ever has to battle pediatric cancer.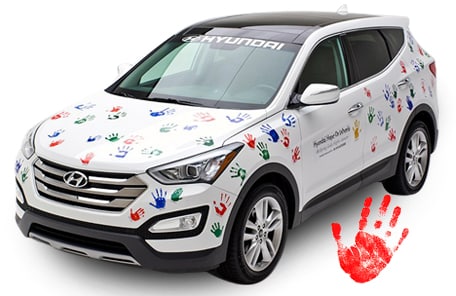 Hyundai is one of the largest private funders of research into pediatric cancer. Hyundai Hope On Wheels awards financial support – in specific fields of research – to Children's Oncology Group member institutions. Their mission is to find a cure for childhood cancer one hand-print at a time. This highly-regarded program seeks to expand the knowledge base for pediatric cancer – and to improve the standards of care. Every time a Hyundai vehicle is purchased, Hyundai and its U.S. dealers make a donation to Hyundai Hope On Wheels. In fact, Hyundai has raised over $130,000,000 so far.
HYUNDAI HOPE ON WHEELS AWARDS $250,000 RESEARCH GRANT TO ST. JUDE CHILDREN'S RESEARCH HOSPITAL IN HONOR OF NATIONAL CHILDHOOD CANCER AWARENESS MONTH 9/19/2016 
If you would like to know more on how Hyundai Hope on Wheels works visit www.hyundaihopeonwheels.org
Below is a video of the $250,000 research grant awarded to St. Judes in 2015 by Hyundai Motor Americas South Central Region.